Yes, it seems the clog has made it's way into the top summer shoe trend's for 2010, and as reluctant as I am to say this - I kinda want a pair. Now the clogs I'm talking about are the high heeled, chunky sandals - not the i-live-in-a-windmill-in-Holland style clogs.
Chanel and Miu Miu were rocking their clogs down the runways and it wasn;t long before they were selling like hot cakes! Fashion bloggers and celebrities were rocking the clogs and it seems we're dying to hop on the bandwagon too. They are a fresh take on a familiar style of summer sandal - think back to last year when Pierre Hardy joined GAP to design their summer sandals that proved to be a huge sell out hit; appearing in practically every fashion magazine of the year!
Photo credits: Above: Flikr, Right: fashion tribes
The slip-on clog design has influenced a lot of the designs this summer eith many re-designing and experimenting with the slip-on design. Now a Slip-on heel, to me, doesn't sound that appealing - but I think it could work well for a daytime look- which is why they're so wearable. They are simplistic but unusual in their design but still allow you to mix and match all kinds of outfits and they'd bring it up to trend instantly.
Chanel
Now I wish I could afford a £300 pair of Miu Miu clogs I really do, but alas I cannot. Instead I have waited to see what high street designers can do - and decide whether or not it is possible to own a pair of clogs worthy of a "are they designer" comment.
So here goes, I have sat in front of my computer searching away, to find the best designer style steals out there, under £100.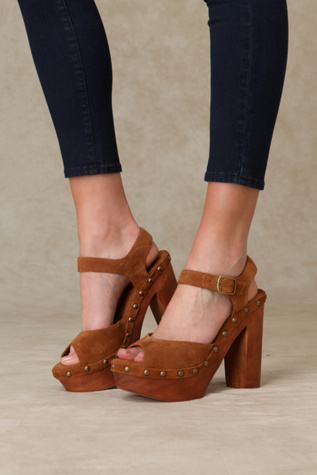 1. £90.78 @ ">Free People 2. £97.36 @ ">Free People 3. £97.36 @ ">Free People 4. £65 @ Topshop 5. £45 @ Miss Selfridge 6. £40 @ Barratts7. £35 @ Barratts